Todd's 1999 Dodge Avenger Retali8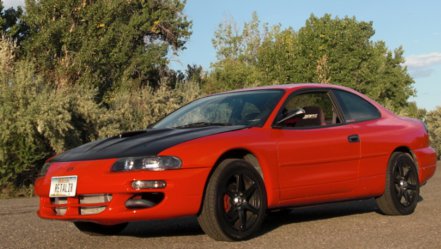 Vehicle Intro:
This is my 1999 Dodge Avenger base model, equipped with the Mitsubishi 420a, DOHC 2.0 and manual 5 speed transmission. I bought this car around 5 years ago and itís been through many different phases while in my ownership but Iíll only be focusing on the current phases of the car.
The car sat, with problems and pieces missing, for three years until January of 2009 when I got my license back and started putting time, money, and effort back into her. I got her looking good again and then decided to join the boost crew and bought a used turbo kit from a guy off and Avenger forum (ASEClub.net). I installed the kit in July, but to my dismay I had terrible oil leaks coming from everywhere in the motor and I was overheating. Two months later I had a new head gasket, valve cover gasket, intake gaskets, cam seals, timing belt, pulleys, water pump, thermostat, and radiator cap. Now she runs great and itís time to let the fun begin!
**Not too many updates through winter. Just cold snow and ice! Plans for spring are CF trunk, LM-1 Wideband, GSX skirts, and red rings on my rims!
List Of Dodge Accessories:
Exterior:
- L & R outer tie rods;
- HVAC bezel;
- Windshield;
- New front tires;
- 4 wheel balance & alignment;
- L & R wheel hubs;
- "HDR" Front lip;
- 08 Style "Avenger" Emblem - Black;
- 08 Style "Dodge" Emblem - Black;
- 2.0T Emblem - Black;
- Clear/Smoke Turn Signals;
- Smoked Corners;
- Smoked Taillights;
- Smoked reverse bar;
- SS Hood;
Interior:
- Radio mount bracket and wiring harness;
- Passenger air bag cover;
- Drivers outer door handle;
- L & R door handle cups;
- 3D red gauge bezel;
- B&M Short Throw Shifter;
- Black shifter boot with red stitching;
- Black w/ red Dodge logo back seat cover;
- Black w/ red Dodge logo floor mats;
- Bomz Racing Seats;
- Gauge Cluster Dual Gauge Pod;
- A-pillar dual gauge pod;
- Custom Painted Interior;
- Grant Evolution GT Steering Wheel;
- Indiglow gauges;
- Momo Leather Shift Knob;
- Reverse Glow HVAC Overlays;
- Under Dash Neons;
Performance:
- 034 EIC supplementary injector controller;
- Prosport Boost Gauge;
- T3 42/48 AR turbocharger (5psi on stock internals);
- XS Power external wastegate w/ external dump tube;
- Turbo XS RFL BOV;
- Prosport Oil Pressure Gauge;
- Log style cast turbo manifold;
- External wastegate dump tube;
- 2.5" custom turbo downpipe;
- SPW Muffler;
- Bar & Plate FMIC;
- Custom 8-injector air intake manifold with stock primary and 30lb secondary injectors;
- Dual high-flow billet fuel rails;
- Aeromotive 1:1 FPR;
- Walbro 255 fuel pump;
- A/C Delete;
- Mopar EGR Blockoff Plate;
- Energy Suspension Polyurethane Shifter Bushings;
- Golden Eagle vacuum manifold;
- Mopar MLS Headgasket;
- NGK One Step Colder Plugs;
- Painted Valve Cover;
- Synapse Missing Link mechanical fuel cut defender;
- Taylor performance plug wires;
Todd's 1999 Dodge Avenger Retali8 Gallery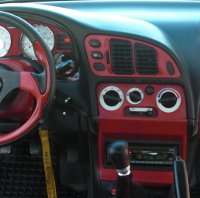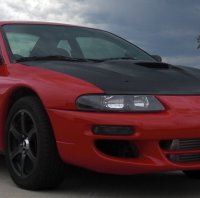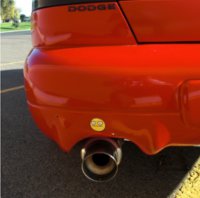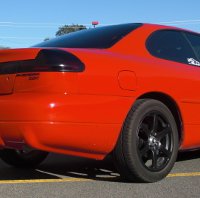 Source: http://www.cardomain.com/ride/317696.