Carson's 1996 Dodge Avenger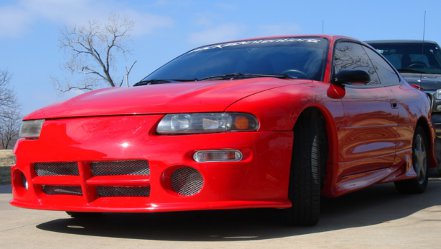 Vehicle Intro:
The project began with this stock, 1996, Dodge Avenger. I bought the car wrecked and cheap with high dreams! We had to straighten the radiator bracket due to previous damages and thank goodness for salvage parts. lol. This was my first car and i'm sure just like many of you, i fell in love with it. No, it wasn't the coolest car in town, but it sure as hell was the cleanest!!! Little did i know, i would decide to make this sort of my project.
Who doesn't like loud ass music! The Avengers stock speakers just weren't doin it for me. So i went out and bought a Pioneer deck with a Kicker 1500x2 amp, 2 brand new Kicker L7 subs, and a 10 farad stinger capacitor. And of course, my battery still wasn't able to keep up with all this power draining so fast, so i eventually had buy a new yellow cap, Optima battery.
Just a taste of my luck; Not sure if you noticed but my turn signals went from bergandy to clear in these pics. Driving home from work a day after i got it out of the body shop, one of my turn signals wiggled its way out of the slot and i lost it on the highway. Yea, they forgot to screw them in. There was an exhaust leak so i pulled it all out up to the manifold, took out the resignator and catalytic converter, replaced the 2" pipe with 3", and put on an A'Pex exhaust. Sounded a hell of alot better!!!
List Of Dodge Accessories:
Exterior:
- ADR Wheels;
- StreetGlow Lighting;
Interior:
- Bomz Seats;
- StreetGlow Pedals;
- Auto Meter Gauges;
Multimedia:
- Tsunami Wiring;
- Kicker Tweeters;
- Falken Tires;
- Kicker Subwoofers;
- Kicker Speakers;
- Viper Security;
- Pioneer Head Unit;
- Custom Sub Enclosure;
- Kicker Sound Processor;
- Kicker Amplifier;
Performance:
- Venom Performance Chip;
- K&N Intake;
- A'PEX Exhaust;
Carson's 1996 Dodge Avenger Gallery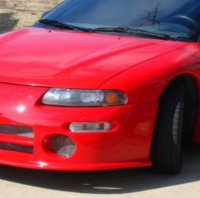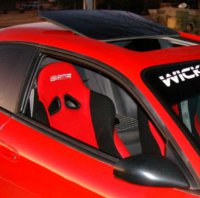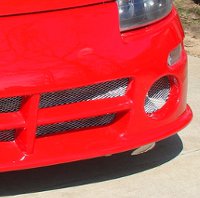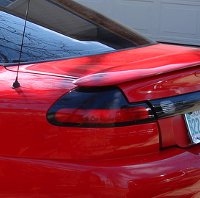 Source: https://www.cardomain.com/ride/3361422.