Josh's 1995 Dodge Avenger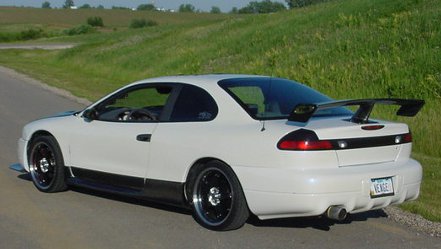 Vehicle Intro:
My 1995 Avenger is an I4 420a Auto, Repainted Bright White with Blue Pearl. Interior is gray with custom carbon fiber pieces mixed all around. I'm the second owner and when I purchased it (Feb 2006), the car was a bare bones base Avenger with no options or accessories. The car was heavily damaged in an accident in Nov. 2006. I have since made it even better than before from top to bottom--inside and out. Since I purchased it in February of 2006, my list of modifications purchase and installed by me is impressive now.
List Of Dodge Accessories:
Exterior:
- Custom Bright White with Blue Pearl Paint;
- Debadged and side mouldings removed;
- Tinted Windows/Windshield;
- Carbon Fiber B-Pillars;
- Carbon Fiber Fuel Door;
- Carbon Fiber Jasonlee GSX Sideskirts;
- Carbon Fiber EVO Style Hood;
- Carbon Fiber BuddyClub II Front Splitter with JP Racing Rods;
- Carbon Fiber OEM Style Fenders;
- Carbon Fiber Door Handles;
- Carbon Fiber License Plate Surrounds;
- Carbon Fiber 3rd Brake Light Surround;
- Carbon Fiber Trunk;
- Cargrillz Front Bumper Mesh;
- Custom License Plates;
- 97+ Style Projector Headlights;
- Tenrai Vertical Doors from Tru Motorsports;
- Custom aftermarket sunroof;
- 18" Drag DR-8 Wheels;
- Wings West Mono-post Carbon Fiber Wing;
- Silver Powder-coated Wiper arms;
- Clear Front Turn signals;
- 97+ Front & Rear Bumper Conversion;
- Falken 215/25/18 ZE512 Tires;
- Safety Caps;
- Chrome Tuner Style Lug Nuts;
Interior:
- Carbon Fiber includes: Dash Bezel, 2-Gauge Dash Surround, 2 Gauge Center Vent Delete Panel, Gear Shift Indicator, Cupholder/Ashtray Lids, HVAC Bezel, Armrest Pad, Dash side Vents, Shift Knob Insert, Sill Plates, Glove Box, Racing Pedals;
- Reverse Glow Gauges (dash and HVAC);
- Triple A-Pillar gauge pod;
- Auto Meter Phantom II Voltmeter, Oil Pressure, and Water Temperature, Fuel Pressure, Transmission temp gauges;
- Autometer Cobalt Amplifier Temp Gauge;
- Power lock/Keyless entry conversion;
- AEM EUGO Air/Fuel gauge;
- Custom Leather Gray & Black Seats;
- 6" Monitors in Headrests;
- Autodimming Mirror with Compass and Temperature;
- Homelink Sunvisors;
- Relocated O/D Switch;
- Chrome Shift Knob;
- Eclipse Console Swap;
- ScanGauge II;
Multimedia:
- Pioneer Head Unit DEH-P4700MP;
- Rockford Fosgate P5002 Amp;
- 3.0 Farad Capacitor;
- Pioneer 4-way 6.5's TS-A1681 260w max, 30w nom;
- Pioneer 4-way 6 x 9's TS-A69815 420w max, 80w nom at 4 ohms;
- Pioneer 6 Disc CD Changer CDX-P650;
- 2-10'' RF HX2 Punch Series Subs in sealed box trimmed with Blue Neon rings;
- Fully dynamat'd trunk;
- Rockford Fosgate Ground and Distribution Blocks;
- Scosche Eclipse HU Mounting Kit and Amp Install Kit;
Performance:
- Megan Racing Rear Lower Brace;
- Brembo Slotted/Drilled Rotor and HI-Performance Pads;
- Blue Powder-coated Neuspeed Strut tower brace;
- R.R.E Front Lower Brace;
- RM Front & Rear Swaybars;
- Custom Perrin Evo Front Endlinks;
- Eibach Lowering Springs;
- KYB AGX Adjustable Shocks/Struts;
- Energy Suspension Polyurethane Motor Mounts and Suspension Kit;
- Ingalls Front Camber Kit;
- RRE Front Lower Brace;
- Stainless Steel Brake Hoses;
- Red Painted Front Calipers;
- Zapp 60mm Throttle Body;
- ARP Headstuds;
- B&M Transmission Cooler;
- Custom Blue Powdercoated Valve Cover;
- Bomz Underdrive Crank Pulley;
- Blue Silicone vaccum hoses;
- MSD Coil & MSD 8mm Wires;
- EGR Block off Plates;
- OBX Polished Intake Manifold;
- OBX Stainless Steel Test Pipe;
- Stinger 200 Amp Alternator;
- NGK Iridium Plugs;
- Custom Polished Cold Air Intake;
- Pacesetter Cat-back Exhaust;
- 4-to-1 Stainless Steel Header;
- Stainless Steel Down pipe;
- Venom Performance Module;
- Optima Yellow Top Battery;
- Powerlift Hood Prop Rods;
- Various Powder-coated underhood Brackets/latches;
- Hayame Fuse Box Cover;
- ZEX dry Nitrous System with Exterior Color Matched Bottle;
- RSS Grounding Kit in Electric blue colored;
- Transmission Manifold Adaptor & Oil Filter Sandwich Adaptor;
Josh's 1995 Dodge Avenger Gallery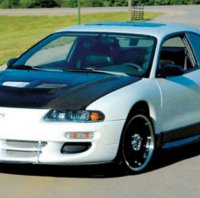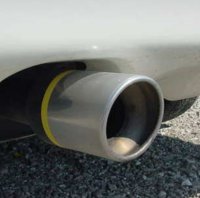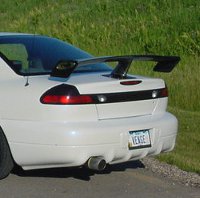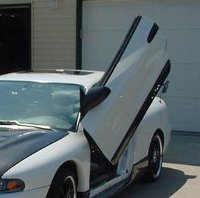 Source: https://www.cardomain.com/ride/2439931.