Luke's 2000 Dodge Avenger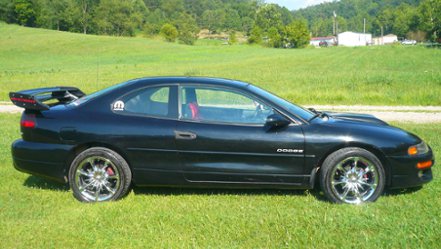 Vehicle Intro:
I am not gonna try to make this Dodge Avenger out to be the most badass car on cardomain. Everyone thinks that their car is the fastest car on the road, and the best looking too. I admit, my head was once that big too when i was 16. I've been around enough to know that the Avenger is a good looking, decent handling, underpowered car. Its 0-60 time sucks, and the quarter mile time is even worse. I routinely get beat in street races by hondas and cavaliers, even a milf in a VW bug once....with all that being said, dont get the wrong idea, i do actually like my Avenger. I like the agressive styling, and i have done some cosmetic mods to improve the looks a little.
Everyone knows that the easiest way to make your car look better is to slap some expensive rims on it, so thats what i did. I found some 17" Veloche Spikes. They rims were sitting in my buddies garage for about four years and were seriously dirty. He had lost two of the center caps, and i have been looking around on the internet for replacements. The best deal i can find is $75 for two center caps. Currently i am not financially well off enough to justify paying $75 for two pieces of shiny plastic. fuck that! It looks good enought without them. hahaha. Also shown are the factory rims right before i replaced them.
With the hood scoop i was trying to give the car more of an American look, and less of a tuner look. The scoop is for a Dodge Ram truck, but it fits perfectly to the Avenger hood. I plan on converting the scoop from cosmetic to fully functional. Simply cutting a hole in the hood, then cuttin out the front of the scoop and bolting it on seems way too simple, but its probably what ill wind up doing. ANY advice on this would be much appreciated.
The vinyl Mopar decals are one of my favorite things on the car. They really stand out against the black, and were relatively inexpensive. The K&N, Flowmaster, and Brembo stickers are false advertisement, i dont have any of those products on my car, just cheap knock off versions i purchased on the internet. To be completely honest, the Mopar stickers are some what of a false advertisement too. Anyone who owns/has owned an Avenger can tell you that the car was made my Mitsubishi. Everything on that car is a product of Japan. The engine is a Mitsubishi Motors 2.5L v6. Even the factory rims have mitsubishi emblems on the inside of them. Avenger parts were made in japan, assembled in mexico, and sold in the USA. Mopar had no part in it as far as i know.
The only other Performance mod i have made is the exhaust tipsavailable. Again not sure how much it helps with performance, i'm sure it's not the 10 hp gain advertised on the website. It sounds good, and it looked good when it was new. sorry i don't have any good pics of it, but i am working on uploading a video so you can hear how it sounds. It's nothing impressive, but i think it sounds better than those 4 bangers beating be in street races out there that sound like pissed off weed-eaters.
Luke's 2000 Dodge Avenger Gallery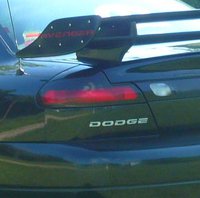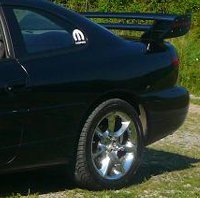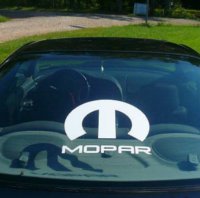 Source: https://www.cardomain.com/ride/3184059.