Darek's 1995 Dodge Avenger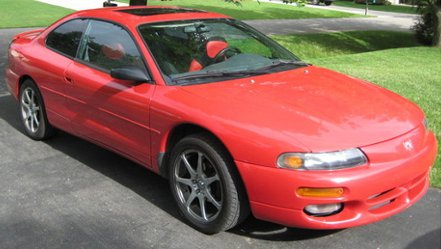 Vehicle Intro:
So this is my venger, I bought her for 2500, had a good sounding engine, and a 3 month engine and drive train warranty. to bad i got tired of the 2.5 and had a 3.0 swap and voided the warranty. unfortunately i never got pics of her when i just bought her, i took these pics after i got the rims, and some interior stuff. But as i said before, this car has put me through hell and back!
January 2nd, i was driving home when my top caliper bolt came out of my front pass side, locked up the wheel and almost sent me into an accident, regained control of it and skidded into a parking lot. Took of the wheel, bought a new bolt, and drove it home. Right when i got home i checked all the brakes.
January 28th, I was on the highway when something was dropped on the road by a pickup in front of me, went into my front drivers side tire, at 60, blew it up, and messed up my rim beyond repair. SOOOOOOO i bought some Konig Tantrums, got new tires and slapped them on.
Feb 15th ( my b day ) Driving home when my transmission goes into limp mode and trans fries. Tried everything before sending it to a trans shop, input and output speed sensors, a bigger tranny cooler, firewall relays, everything, Nothing fixed it. Go figure i actually toasted 3rd and 4th gear ( its a auto ). 1400 later, and my car moves. But on the way home, one of the wires poped off my distributor and made my car jerk violently, IT SUCKED!
Feb 27th, car starts acting up again, sent it back to the trans shop and they found out a messed harness was causing it this time.
May something, rear drivers side shock tower broke, welded it up, put all new struts, lateral arms, control arms, and swaybars.
June 2nd, Waterpump freezes up, timing belt goes to shit, breaks, and my 3.0 goes bye bye. Had to swap the 2.5 back in.
Which leads to present, everything works now, but how long it will last, idk... as of now it has iridium spark plugs, cool air intake, mandrel bent flow master exhaust, tranny cooler, ported intake, walboro 255 fuel pump, Msd kit on the way, and thats about it. for now.
List Of Dodge Accessories:
Exterior:
- Pirelli Tires;
- Bomz Body Kit;
- Custom Lighting;
Interior:
- AC AutoTechnic Shift Knob;
- Custom Pedals;
- Auto Meter Gauges;
Multimedia:
- Bose Tweeters;
- MTX Audio Subwoofers;
- JBL Speakers;
- Viper Security;
- Pioneer Head Unit;
- Q-Logic Sub Enclosure;
- JL Audio Amplifier;
Performance:
- Neuspeed Strut Bars;
- Eibach Springs;
- Eibach Shocks;
- Custom Performance Chip;
- Custom Air Intake;
- MSD Ignition;
- Custom Header;
- Flowmaster Exhaust;
- Custom Engine Comps;
- AEM Engine Electronics;
- Custom Brakes;
Darek's 1995 Dodge Avenger Gallery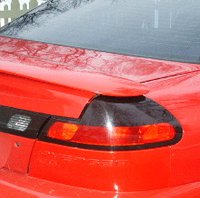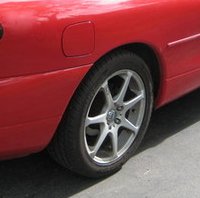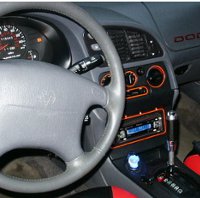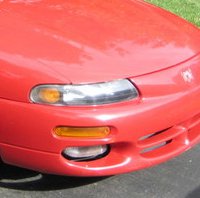 Source: https://www.cardomain.com/ride/3104651.