Melissa's 1997 Dodge Avenger ESRT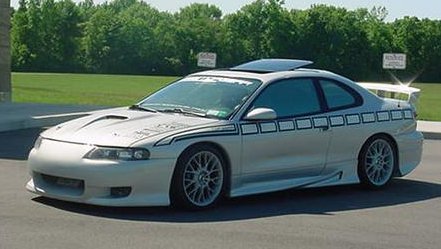 Vehicle Intro:
Here, you will find pictures and a list of Mods currently done to the car. To date, there is well over 15,000.00 put into this car.
The car was origionally a Florida car, then brought to Buffalo, NY. Atleast 6 months out of the year in NY the car was stored in a heated storage unit. Finally to move with me and reside in DC before I sold the car in 2006.
Misc Car Awards:
Placed 2nd in the Domestic Wild Class for Avengers/Sebrings/Stratus'at the Carlisle Custom Compact Jam Show in Harrisburg, PA 2004.
List Of Dodge Accessories:
Exterior:
- TC Spoliers Body Kit (TC1);
- JSP Touring Wing;
- Enkei Zoku's 18x8;
- TC Spoilers Hood;
- Shaved Turn Signals, and Moldings;
- Molded Body Kit;
- Custom Silver Ice Paint Job;
- Mirror Tint (with lifetime warrenty);
- Painted Mirrors and Custom Tail Lights;
- Painted Grill;
- Painted Calipers;
- Custom Reflective Graphics;
- Silverstar HID's;
- Custom Blue Angel Eyes;
- Rolled Fenders;
- Eclipse Brake Conversion;
- Drilled & Slotted Rotors;
- LED Reverse Backup Lights;
Interior:
- Dynamic Auto Design Racing Seats;
- Corbeau 4pt Racing Harnesses;
- Autometer A/F, Trans Temp, Voltmeter;
- Lotek Triple Gauge Pod;
- Reverse Indiglow Gauges;
- Brushed Aluminum Trim;
- Brushed Aluminum Gauge Bezel;
- 4pc Custom Diamond Plated Floor Boards;
- Custom Racing Pedals;
- Custom Painted Interior;
- Custom dyed Carpet and Headliner (black);
Multimedia:
- Clarion 6x9 Rear Speakers;
- Clarion 6x5 Component Set;
- Clarion 3x5 Component Speakers;
- Clarion 1" Tweeters;
- Eclipse Amp (running mid's and hi's);
- Sony Xplod M770 headunit;
Performance:
- HP Motorsports Cold Air Intake;
- Test Pipe;
- Aerospeed Muffler;
- Apex'i SAFC;
- Accel Wires;
- Bosch Plat Plugs;
- Dressed up Engine;
- Optima Yellow Top Battery (with warrenty);
- Clifford Matrix RS2 Autostart Security;
- Neuspeed Front Strut Tower Bar;
- Pilot Motorspeed Rear Lower Tie Bar;
- Custom Front Lower Tie Bar;
- Maxspeed Coilcovers;
- KYB AGX Shocks;
Melissa's 1997 Dodge Avenger ESRT Gallery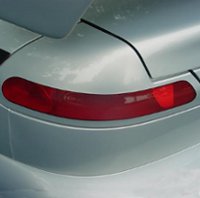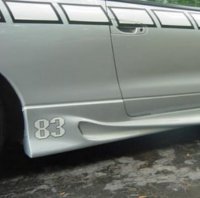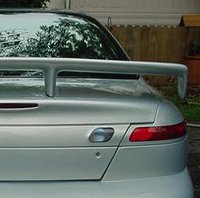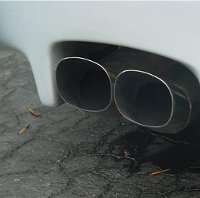 Source: https://www.cardomain.com/ride/399962.